Koko Samoa Delivery Every 30 Days

AUTOSHIP AND SAVE 15%
The Koko Samoa you remember.  It tastes and feels like home, without the hard work.
Never run out of koko at home again with our easy subscription and automatic deliveries of delicious pods! 
Our single serve Koko Samoa Pods™ automatically delivered to you every month. This is the best value you can get for our world famous Koko Samoa single serve pods.  No more running out of koko! Enjoy all the convenience of our single-serve pods and now with even less hassle ordering.

Never run out of koko at home again with our easy subscription and automatic deliveries of delicious pods! 
Our single serve Koko Samoa Pods™ automatically delivered to you every month. This is the best value you can get for our world famous Koko Samoa single serve pods.  No more running out of koko! Enjoy all the convenience of our single-serve pods and now with even less hassle ordering.

What are people saying about Koko Samoa Pods™?
★★★★★

"Its fresh and that is so hard to find!
Oh am definitely going to be a repeat customer! So happy!" - Jenny S.
★★★★★

"It was easy to prepare like making a cup of coffee

I loved how it was easy to prepare. I can just turn on the kettle and make myself a cup of Koko with the easy to prepare koko pods, instead of bringing out your family size pot to make a big koko Samoa, that I have to wait around for a cuppa." - Ramona M.

★★★★★

"Satisfied customer
Yay, my order arrived this afternoon thank you for a quick delivery. The koko pods are great idea, I just pop one in a cup with almond milk 3 min in microwave and half a teaspoon of raw honey, yummy. My go to hot chocolate this winter.Thank you Lasi and team Koko Samoa." - Siala R.
★★★★★

"The cocoa is absolutely top quality.
I love the natural earthiness and bitterness of each sip. I feel energised and good within after having my morning KOKO pod"
★★★★★

"Quality koko and loving the pods!
 Quality koko at amazing prices! Prompt delivery and amazing customer service team. Loving the pods 🥰Will definitely be buying again. Loved the personalised message, thank you so much 😊" - Johnny N.
★★★★★

"Very unique
Impressive and feels like you're in Samoa when you smell it." - Tara B.
★★★★★

"The authenticity and smoothness of the koko pods is perfection

Can't recommend The Koko Samoa enough!! Fastest delivery which is exactly what you'd want when needing your koko fix. Friendly service but that's not surprising when dealing with true Samoans. Have gotten my whole family hooked, including uncles and aunties. Will definitely be buying from here again, and again. Thank you!" - Louisa M.
★★★★★

"This is a must have in your house.

Absolutely blessed to have found this cacao. I have had many but this one just takes it away. Pure creamy delicious cacao. May your business continue to flourish as we need this product in our lives. Thank you so much for your wonderful service from the heart. Authentically aligned to their service for all. " - Tina M.
★★★★★

"Always fast delivery
Always fast delivery , taste is great , and looking fwd to subscription I've ordered . Cheers!" - Amy L.
★★★★★

"A must have!

Absolutely loving these pods. The quality of the product is amazing, the taste, creamy texture and aroma will take you right back to Samoa! The combo with the masi's is even better.Highly recommend these pods!" - Paula I.
★★★★★

"It's been many long years since my I've had Koko Samoa and the first smell and sip brings back a lot of fond memories.

Easy to order with fast and efficient service. Great communication with updates of delivery. Also love the surprise gift that they added to my order. Fa'afetai lava ❤️" -  Moli F.
★★★★★

"The convenience of a single pod
Fast delivery. Excellent communication. Great product that brings back many happy memories . Will definitely order again. Fa'afetai Lava!" - Tala A.
See why everyone's raving about these new Koko Samoa pods. Try the pods from The Koko Samoa today.
No hassle. No Fuss.
Our cacao and cacao husks are single-origin, vegan friendly and 100% organic. The fine flavour profiles comes from a rich history, nutrient dense volcanic soil and lush green mountains surrounded by sea and sun. Best of all our Koko Samoa pods are specially made to save time and hassle, so you never have to waste koko in a big pot again, or spend precious time grinding down a big old block.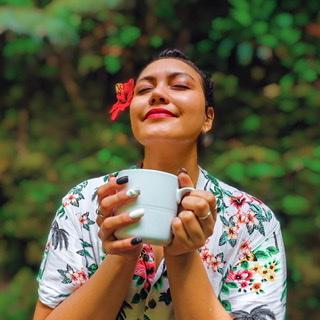 Simple All-Natural Ingredients and Benefits:
Made from 100% premium Samoan Trinitario Cacao beans
Gluten-Free
Stone ground cacao for a true pacific island experience
Single-Serve Koko Samoa means less wasted koko in the big pot!
Vegan
100% Organic cacao
Your family will love the little pods
Use them to make your favourite Koko recipes
Quick and easy to make
No added ingredients. Just 100% Koko (cacao)
Frequently Asked Questions About The Koko Samoa
1. Does long does Koko Samoa last?

If pure cacao is stored well in a cool dry place, in an airtight container, it does not go bad for a long time (up to 18 months). Although, the flavour and quality of koko (cacao) does tend to decrease after a couple of months. It's usually the added dairy that makes drinking cocoa go bad, which Koko Samoa in its pure form doesn't have. That's why we put a shorter "use by date" because we want our customers to experience their cacao at its best.




2. Does our Koko Samoa have the chewy bits (Pegu Koko)?

We make our Koko Samoa Drinks to be as convenient as possible, so we do get the Koko much finer than normal. So it dissolves quicker in hot water without too much effort and stirring. There are still little bits to chew (pegu koko) but the pieces aren't as big.




3. Does Koko Samoa have caffeine?

Cacao has something similar to caffeine in it called theobromine, and the effects can be similar. Caffeine and theobromine are both alkaloids. Cacao beans usually contain about 1% theobromine. Like caffeine, theobromine blocks adenosine receptors, increasing alertness but isn't as potent as caffeine. Theobromine has also been identified as one of the compounds contributing to chocolate's reputation as an aphrodisiac.




4. What are the health benefits of Koko Samoa

While you should always seek the advice of your healthcare professional, cacao is often considered to be a superfood with unique qualities including; the ability to lower insulin resistance, protect your nervous system (high in resveratrol antioxidants), shield nerve cells from damage, reduce risk of heart disease and strokes, and lowers blood pressure. Never replace professional medical treatment with cacao, and always seek guidance from your doctor.




On a more fun note, cacao can be a mood booster because it is reputed to increase levels of certain neurotransmitters that promote a sense of well-being. And the same brain chemical that is released when we experience deep feelings of love – phenylethylamine – is found in chocolate.

Generally, organic cacao is also rich in minerals: magnesium, iron, potassium, calcium, zinc, copper and manganese.




5. Does The Koko Samoa really give back to the community?

Through Future Proof Samoa's partnership with Brown Girl Woke, we get to a part of inspiring, educating and empowering young females to lead culture and policy changes for a transformative society. Initiatives include providing clean drinking water in Samoa where needed, raising awareness about domestic violence and sexual abuse. Having three daughters of our own, we stand behind this mission 100%.




In addition we also support Talofa Kids, we are helping to bring child abuse to a halt. Their vision is to see children thriving in a safe and progressive Samoa and we couldn't be happier about being a part of their mission. Their work includes training workshops and open platforms for discussion, seeking to end crimes being committed against children.




Through Future Proof Samoa's partnership with Soul Talk, proceeds will go to supporting a qualified team of qualified counsellors, as well as aid work for vulnerable children, youth, couples, families and individuals of all ages and from different religious denominations. Student and youth support includes migratino concerns, drug and alchol issues and abuse (phyiscal, emotional, sexual).




Beyond our donations to Future Proof Samoa, we strive for sustainable materials, packaging, shipping and zero-waste production. We believe that the privilege of doing business means actively investing in the livelihoods of families as they plant, harvest and sell cacao. We can't do it alone either. In addition to our own plantations, we also purchase from other villages and distributors who share the same heart as we do, and we aren't afraid of attaching a high value to the cacao we source.