"Convenient single-serve pure cacao drinking chocolate pods! For less than the price of a coffee. I'll be back again and again!"
GET 10% OFF SITEWIDE

. SALE ENDS IN:
00

Days

00

Hours

00

Minutes

00

Seconds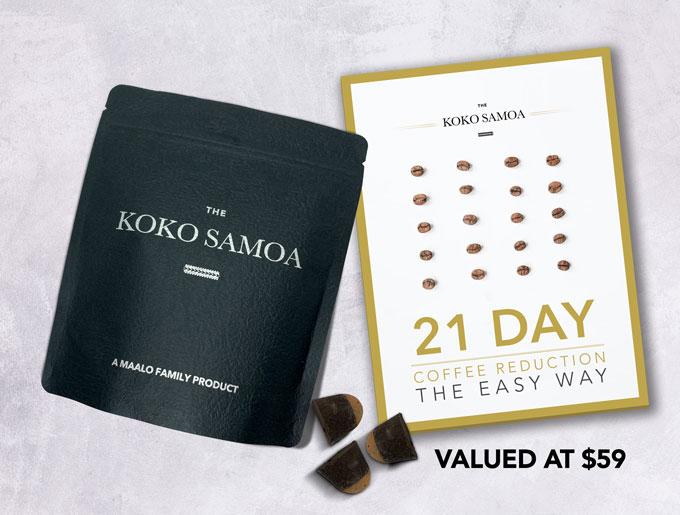 FREE 21-Day Coffee Reduction Program with your Koko Samoa Pods Purchase
LIMITED TIME ONLY
Some of the rarest cacao in the world is found in the Pacific Islands. It is that cacao which has the fine flavour and characteristics that was responsible for Samoan cacao achieving fame. The nutrient dense volcanic soils of the islands add to that rich tapestry of nutrients making drinking cacao (affectionately called Koko Samoa) a coffee alternative both your body and brain will love. Get the 21-Day Coffee Reduction Program FREE with our Koko Samoa pods.
FREE 21 Day Program Offer ends in
00

Days

00

Hours

00

Minutes

00

Seconds
Drinking Cacao Is The Ultimate Coffee Alternative
Tastes and Feels Amazing
 We believe that it is important to make small changes in our life to protect what we value most, whether it's our health or our environment. We use cacao from trees planted on our farm, and neighbouring villages and we labour alongside other businesses who hold similar values and dreams, to make sure we get the coverage Samoa deserves. Our cacao and cacao husks are single-origin, vegan friendly and 100% organic. The fine flavour profiles comes from a rich history, nutrient dense volcanic soil and lush green mountains surrounded by sea and sun.
Ancient Wisdom
"Koko" is a rich drink steeped in tradition. It has long been an important part of the Samoan culture; bringing families together for gatherings, celebrations and important ceremonies. If having a hot beverage in your hand is as much psychologically rewarding as it is physically, Koko Samoa is your best friend. Drinking cacao is a called many things in many cultures, but the practice of pure organic cacao beverages is ancient. With it, you can systematically decrease your coffee consumption over a 21 day period or longer.
Enjoy An All-Natural Replacement for Coffee And Chocolate
The Koko Samoa is made from 100% premium Samoan Trinitario Cacao beans, is gluten-free and vegan friendly. It's also stone ground cacao for a true pacific island experience. It's quick and easy to make. No added ingredients. Just 100% certified organic koko (cacao)
A Delicious Replacement for Coffee
Using coffee for your anger management? Theobromine gives you longer lasting, milder energy without the jitters and crash that can come from caffeine. How does this work? Theobromine acts as a vasodilator which expands your blood vessels to increase blood flow. Contrastingly, caffeine is a vasoconstrictor which constricts your blood vessels causing the heart to work harder to increase blood flow . Come to the koko side. We've got hot chocolate. You'll also love that koko samoa is 99.9% caffeine free and its boost of natural energy feels akin to a goodnight's sleep. We could all use some more of that!
Estimated complete out-of-stock date
00

Days

00

Hours

00

Minutes

00

Seconds
What are people saying about our pure cacao drinking chocolate pods?
Our single serve pure cacao drinking chocolate pods are deliciously dark chocolatey pods made from cacao beans from the paradise that is Samoa. Pop one into a cup of hot water to dissolve and enjoy the ultimate superfood in a cup, lovingly called 'Koko Samoa' by those in the know. It's easy and convenient and each cup costs less than half a cup of coffee! 
One pod makes one cup of hot cacao drinking chocolate. One bag makes 21 servings. Just add hot water and your choice of sweetener. 
★★★★★

"Its fresh and that is so hard to find!
Oh am definitely going to be a repeat customer! So happy!" - Jenny S.
★★★★★

"It was easy to prepare like making a cup of coffee

I loved how it was easy to prepare. I can just turn on the kettle and make myself a cup of hot chocolate with the easy to prepare pods, that I have to wait around for a cuppa." - Ramona M.

SEE WHY EVERYONE'S RAVING ABOUT THESE NEW KOKO SAMOA PODS. TRY THE PODS FROM THE KOKO SAMOA TODAY.
Frequently Asked Questions About our pure cacao drinking chocolate pods
1. How long do the pods last?

If pure cacao is stored well in a cool dry place, in an airtight container, it does not go bad for a long time (up to 18 months). Although, the flavour and quality of koko (cacao) does tend to decrease after a couple of months. It's usually the added dairy that makes drinking cocoa go bad, which Koko Samoa in its pure form doesn't have. That's why we put a shorter "use by date" because we want our customers to experience their cacao at its best.




2. Does it have the tiny cacao nibs mixed in ?

Yes there are! We make our pods to be as convenient as possible, so we do get the Koko much finer than normal. So it dissolves quicker in hot water without too much effort and stirring.

3. Does cacao have caffeine?

Cacao has something similar to caffeine in it called theobromine, and the effects can be similar. Caffeine and theobromine are both alkaloids. Cacao beans usually contain about 1% theobromine. Like caffeine, theobromine blocks adenosine receptors, increasing alertness but isn't as potent as caffeine. Theobromine has also been identified as one of the compounds contributing to chocolate's reputation as an aphrodisiac.




4. What are the health benefits of cacao

While you should always seek the advice of your healthcare professional, cacao is often considered to be a superfood with unique qualities including; the ability to lower insulin resistance, protect your nervous system (high in resveratrol antioxidants), shield nerve cells from damage, reduce risk of heart disease and strokes, and lowers blood pressure. Never replace professional medical treatment with cacao, and always seek guidance from your doctor.




On a more fun note, cacao can be a mood booster because it is reputed to increase levels of certain neurotransmitters that promote a sense of well-being. And the same brain chemical that is released when we experience deep feelings of love – phenylethylamine – is found in chocolate.

Generally, organic cacao is also rich in minerals: magnesium, iron, potassium, calcium, zinc, copper and manganese.




5. Do you really give back to the community?

Through Future Proof Samoa's partnership with Brown Girl Woke, we get to a part of inspiring, educating and empowering young females to lead culture and policy changes for a transformative society. Initiatives include providing clean drinking water in Samoa where needed, raising awareness about domestic violence and sexual abuse. Having three daughters of our own, we stand behind this mission 100%.




In addition we also support Talofa Kids, we are helping to bring child abuse to a halt. Their vision is to see children thriving in a safe and progressive Samoa and we couldn't be happier about being a part of their mission. Their work includes training workshops and open platforms for discussion, seeking to end crimes being committed against children.




Through Future Proof Samoa's partnership with Soul Talk, proceeds will go to supporting a qualified team of qualified counsellors, as well as aid work for vulnerable children, youth, couples, families and individuals of all ages and from different religious denominations. Student and youth support includes migratino concerns, drug and alchol issues and abuse (phyiscal, emotional, sexual).




Beyond our donations to Future Proof Samoa, we strive for sustainable materials, packaging, shipping and zero-waste production. We believe that the privilege of doing business means actively investing in the livelihoods of families as they plant, harvest and sell cacao. We can't do it alone either. In addition to our own plantations, we also purchase from other villages and distributors who share the same heart as we do, and we aren't afraid of attaching a high value to the cacao we source.